Working on Behalf of Active and Veteran Military Service Members
Attorneys at Kansas City's Boulware Law are filing lawsuits on behalf of active and veteran military service members who now have hearing loss and/or tinnitus because of defective earplugs sold by 3M and Aearo.
It is our honor to do so, and we are going after 3M hard.
It is wrong for a company to sell any defective product to the military. But when a company knowingly sells a defective product – for 12 years – it is inexcusable. 3M must be held accountable. 
Which Earplugs Are Part of the Lawsuit?
The defective earplugs are the dual-ended Combat Arms Earplugs (Version 2). These earplugs were standard issue between 2003-2015. The earplugs were designed and manufactured by 3M Company (through its later-acquired and wholly owned subsidiary Aearo Technologies).
The Combat Arms Earplugs are defective because they allow harmful noises to enter the ear canal by traveling around the outside of the earplug.
Documents show that 3M/Aearo knew as early as 2000 that the Combat Arms Earplugs were defective.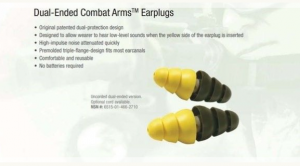 Who Was Affected by the Defective Earplugs?
Between 2003-2015, U.S. military service members used the dual-ended Combat Arms Earplugs. All service members deployed to Iraq and Afghanistan were issued the Combat Arms Earplugs, and these earplugs were also used during in-country training.
As a result of using these defective earplugs, many service members now suffer from hearing loss and/or tinnitus (ringing in ears).
What Action Has Already Been Taken? 
A whistleblower alerted the U.S. Government to evidence showing that 3M/Aearo knowingly sold these defective earplugs without disclosing the defects.
Although 3M and the Government settled for $9.1 million, no veterans affected by the defective earplugs received any of the money.
That's why we are filing lawsuits against 3M/Aearo on behalf of active and veteran military men and women.
Why Should I Talk to the Attorneys at Boulware Law? 
As Attorney Brandon Boulware said when interviewed about the 3M lawsuits, "if you're going to sell a product to the government, it should be a product that works." Servicemen and women with military hearing loss deserve better.
Boulware Law handles serious personal injuries and significant, complex litigation. We represent people across Kansas and Missouri including Kansas City; Springfield, Missouri; St. Louis, Missouri; Wichita, Kansas; and Topeka, Kansas.
Our Kansas City attorneys have successfully litigated cases in federal and state courts in Missouri, Kansas, and across the country.
Consultations are always free.
Contact Us to Learn More.
If you have suffered negative effects from the use of the Combat Arms Earplugs during your military service, our attorneys want to help you receive the compensation you deserve.
Send us an email at info@boulware-law.com and one of our attorneys will be in touch.